Chinese Taipei-Malaysia Work Hand-in-Hand for Leading SMEs to Embrace Digital Transformation and the Inclusive Future
Chinese Taipei work hand-in-hand with SME Corporation Malaysia to co-host "APEC O2O Forum: Empowering SMEs to Go Global through Digital Transformation" on 17 April
---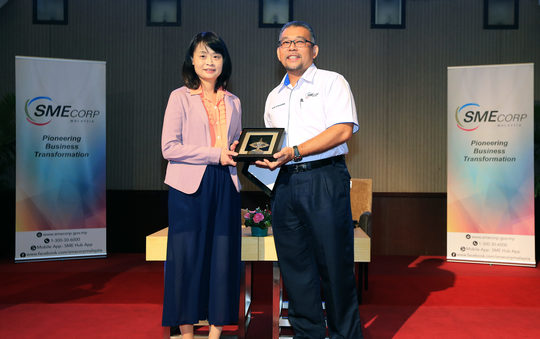 ---
Chinese Taipei-Malaysia Work Hand-in-Hand for Leading SMEs to Embrace Digital Transformation and the Inclusive Future
In order to sustain the momentum of digital innovation in APEC, and to echo the APEC theme 2019, "Connecting People, Building the Future", as well as the priorities, such as Digital Society, SMEs and Inclusive Growth, Small and Medium Enterprise Administration, Ministry of Economic Affairs, Chinese Taipei work hand-in-hand with SME Corporation Malaysia to co-host "APEC O2O Forum: Empowering SMEs to Go Global through Digital Transformation" on 17 April in Kuala Lumpur, Malaysia. Through this cross-border platform, mentoring session, and the best practice showcasing, SMEs could catch the trend of digital economy. Besides, Chinese Taipei and Malaysia reinforced in-depth cooperation via this forum, promoting APEC SMEs to reach the inclusive and sustainable growth in the digital economy era.
Creating the Infinite Opportunities by Digital Technology
Acknowledging the importance of digital transformation for SMEs, Chinese Taipei proposed the APEC O2O Initiative with 4-year framework in 2016. This year, Chinese Taipei co-implement the "4th APEC O2O Initiative: Empower SMEs to Embrace Digital Transformation" with Malaysia, Thailand, Chile, and the Philippines. Five O2O serial events will be held in different APEC economies, and the event hosted in Kuala Lumpur is the first one.
Ms. Wen-Ling Su, Deputy Director General of SMEA, Chinese Taipei and Mr. Mohd Rithaudden Makip, Deputy CEO II, SME Corp. Malaysia gave opening remarks at the APEC O2O Forum. In the remark, Ms. Wen-Ling Su appreciated APEC member economies and Malaysia's support for the O2O initiative. Furthermore, she mentioned this initiative aims to strengthen the public-private partnership and create a better digital innovation environment, so as to help SMEs seizing the digital business opportunities and enjoying the inclusive growth. Mr. Makip stressed the co-proposed APEC O2O initiative with Chinese Taipei from 2017 to 2019 has achieved solid results, and  asserted collaborations with Chinese Taipei in other APEC SME initiatives will continue in the future.     
Nearly one hundred participants joined in this event, including officials from APEC member economies, representatives from multinational enterprises and the best practices of start-up. With the event theme of "Empowering SMEs to Go Global through Digital Transformation", two topics of "Digital Transformation: Opportunities and Technology Applications" and "Breaking Free from Computerization Trap" were discussed. Via mentors' advices, start-ups from Malaysia, the Philippines, Indonesia and Chile could improve the pitching, as well as get more visibility at this international arena.
Besides, to exchange the experiences and to know more about the whole picture of industry in Malaysia, SMEA delegates paid a visit to MaGIC, Malaysia Digital Economy Corporation (MDEC), and Malaysia Retail Chain Association (MRCA). This year, SMEA has linked Taiwanese SMEs from cosmetics and medical device industries with both MDEC and MRCA. Taiwanese SMEs actively take part in the Malaysia retail chain exhibition; while MyCyberSale, one of the biggest online sale in Malaysia, set a "Taiwan shop" on the webpage. The facts above show further business connection between two countries, which brings more commercial opportunities and market expansion in new southbound countries.
Disseminating the Power of O2O
APEC works as an important international organization, as well as the core platform of Chinese Taipei's New Southbound Policy. SMEA is going to hold "2019 APEC IncluNext-Born Local, Grown Global" from June 24 to 27 in Taipei. It is expected delegates from 20 APEC economies, experts of O2O and local innovation ecosystems, representatives of multinational enterprises and start-ups will engage in this event to exchange opinions and networking. Via this great event, it is believed the rich technology innovation power of Chinese Taipei will be seen, and the linkage between Chinese Taipei and APEC economies will be reinforced. Besides, the effects of digital economy will be disseminated to enrich the start-up ecosystem and to boost the inclusive growth in APEC.
###
For further details, or to arrange possible media interviews, please contact:
Ms. Wen-Ling Su
Deputy Director General, Small and Medium Enterprise Administration, MOEA
02-2366-2203
wenling@moea.gov.tw
Ms. Hsin-Yi Tseng
Section Chief, Policy Planning Division, Small and Medium Enterprise Administration, MOEA
02-2366-2251
thy@moea.gov.tw
Back List