Chinese Taipei and Russia promote Local Innovation and Women's Economic Empowerment, lead SMEs to inclusive and sustainable future
SMEA and Ministry of Economic Development of the Russian Federation co-host "APEC Local Innovation Ecosystem Forum, From Local to Global: Enhance the Public-Private Partnership" in Tomsk, Russia, on 13 June
---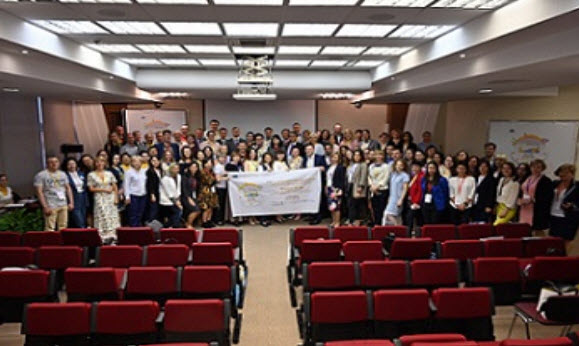 ---
In light of the unbalanced development between local and urban area, slow development of local industries in the APEC region, and echoing APEC 2019 theme "Connecting People, Building the Future" and the priority "Women, SMEs and Inclusive Growth", Small and Medium Enterprise Administration (SMEA), Ministry of Economic Affairs proposed the "APEC Local Innovation Ecosystem Initiative: Revitalization for Inclusive Growth and Sustainable Future" with partner economies the Philippines, Russia, and Thailand. Additionally, Chinese Taipei and Russia co-proposed the initiative of "APEC Financing Opportunities Fair for Women-led MSMEs". Under these initiatives, four local innovation serial events and two financing opportunities fairs will be conducted in different APEC member economies this year. One Local Innovation forum and One Financing Opportunities Fair held in Tomsk are the inaugural events in 2019. Through the local innovation initiative, SMEA endeavors to promote the building of local innovation ecosystem firstly, then strengthening industrial clusters, and further boosting local innovative development. In the long term, this initiative will contribute to the local development by pervasive local innovation ecosystems, and achieve the goal of inclusive growth. Furthermore, via the financing opportunities fair initiative, it is hoped that female enterprises could obtain more information and mentoring opportunities of accessing to capital by discussions and experience sharing from organizations concerned with female entrepreneurship and funding challenges, policy makers, expert speakers and outstanding female entrepreneurs.
SMEA and Ministry of Economic Development of the Russian Federation co-host "APEC Local Innovation Ecosystem Forum, From Local to Global: Enhance the Public-Private Partnership" in Tomsk, Russia, on 13 June. The following is "APEC Financing Opportunities Fair for Women-led MSMEs" held on 14-15 June. Both sides created a cross-border platform with experts sharing perspectives and mentoring local SMEs and women-led MSMEs to build economic and networking assets. The latest trends were discussed to promote development of local innovation ecosystem and to increase access to finance for women-led MSMEs. Besides, best practice showcase from APEC member economies took place in the afternoon on 13 June and in the morning on 15 June at both events.
Strengthen public and private partnership, revitalize local innovation ecosystem and women inclusive growth
Mr. Nikita Ponomarenko, Deputy Director of the Department for Strategic Development and Innovation, Ministry of Economic Development of the Russian Federation, Mr. Kirill Sergashov, Deputy Director of the Department of Investment Policy and Business Development, Ministry of Economic Development of the Russian Federation and Ms. Wen-Ling Su, Deputy Director General of SMEA, delivered opening remarks at the forum and the fair. Ms. Su appreciated the supports from Russia and the other APEC member economies for the initiative of "APEC Local Innovation Ecosystem Initiative: Revitalization for Inclusive Growth and Sustainable Future" and "APEC Financing Opportunities Fair for Women-led MSMEs". It is believed that the local innovation initiative will assist local SMEs creating industrial cluster and revitalizing local innovation ecosystem with the inherited local core value. Also, through the financing opportunities fair, we look forward to reducing barriers to female entrepreneurship in terms of receiving funding during the early stage and expansion stage. By bringing together resources from both public and private sectors, both sides hope SMEs across APEC region will achieve the goal of inclusive growth and sustainable future.
Participants from diverse fields are invited in this forum, including speakers and best practice teams from the APEC region as well as two speakers from non-APEC economies such as Finland and Israel. The forum on 13 June consists of 2 panel discussions, "Promote Local Development through Cluster Development" and "Promote Local Development through Corporate Partnership Programs", focusing on sharing successful experiences and bringing up possible strategies for future development. At the fair on 14 June, government supportive measures were discussed; plus, representatives from international grant program and startup competition show diverse funding channels for women-led MSMEs and also instruct women business owners in the application and the preparation. Promising startups from various economies including Indonesia, Malaysia, the Philippines, and Russia presented best practices of local innovation and women entrepreneurship. Following comments from mentors, startups could achieve local sustainability and steady business growth, and further elevate their global presence.
24-25 June, Largest-scale local innovation ecosystem forum in Taipei
Connect APEC resources, disseminate influence of local innovation, and share inclusive and sustainable future
In addition to the event, SMEA is going to hold 2019 APEC local innovation ecosystem forum on June 26 and 27 in Taipei. It is expected that high level delegates from 21 APEC economies, world experts, representatives of multinational enterprises and startups will engage in this grand event to exchange opinions and networking for searching strategies of revitalizing local industrial cluster. Via this great event, it is believed that the much more in-depth cooperation between Chinese Taipei and other APEC member economies will be achieved, and dissemination of local innovation will be fulfilled, which further create the inclusive APEC ecosystem.
###
For further details, or to arrange possible media interviews, please contact:
Ms. Wen-Ling Su
Deputy Director General, Small and Medium Enterprise Administration, MOEA
wenling@moea.gov.tw
Ms. Hsin-Yi Tseng
Section Chief, Policy Planning Division, Small and Medium Enterprise Administration, MOEA
02-2366-2251
thy@moea.gov.tw
Source: SMEA
Back List