2019 APEC IncluNext: Shape the Future with Innovation and Inclusiveness
Ministry of Economic Affairs (MOEA) held
---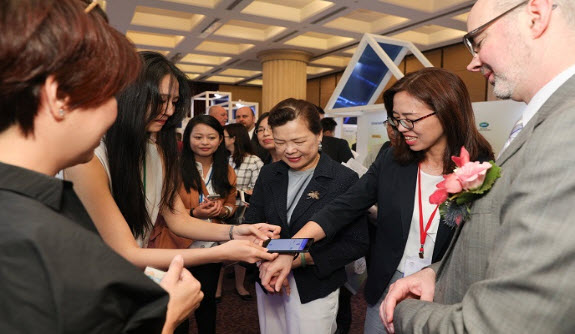 ---
Ministry of Economic Affairs (MOEA) held 2019 APEC IncluNext Week with the themes of Inclusive Growth and Next-Generation Innovation, consisting of APEC Local Innovation Ecosystem Forum and APEC SME O2O Summit, from June 24 to 27 at the Cathay Financial Conference Hall in Taipei. Ms. Mei-Hua Wang, Deputy Minister of MOEA, together with Mr. Mitsuaki Hoshino, Chief Deputy Representative of Japan-Taiwan Exchange Association, and Mr. Raymond Greene, Deputy Director of American Institute in Taiwan delivered opening remarks at the two events respectively.
  Representatives from more than 12 economies attended the APEC IncluNext, including Mr. Bryan O'Byrne, Chief of International Affairs and Trade Policy, the U.S. Small Business Administration (SBA); Mr. Shinichi Fujiwara, Director of Office for International Cooperation, Small and Medium Enterprise Agency (Japan); Dr. Dong Sun Kim, Senior Advisor of Yoon &Yang LLC (Republic of Korea); Ms. Arividya Arimuthu, Director of the Ministry of Entrepreneur Development (Malaysia); Mrs. Barbara Bonati, Advisor of Development and Tourism, Ministry of Economy (Chile); Mr. Michael Alfred V. Ignacio, Director for Commercial Affairs, Department of Trade and Industry (the Philippines). Besides, representatives from multinational corporations, such as Google, Intel, Microsoft; venture capital firms, accelerators, incubators and startups from local and abroad gathered together in Taipei.
Local Innovation Ecosystem of Chines Taipei Shines on the International Arena
  Dr. Dong Sun Kim delivered a keynote speech at "APEC Local Innovation Ecosystem Forum", and specialists from both public and private sector shared policy planning, social innovation and developmental experience of local industrial clusters. Ms. Mei-Hua Wang indicated that the main object of local innovation is to solve the economic disparity between local and urban area, to stimulate local economic growth by enhancing the competitiveness of local industrial cluster with innovative ideas; furthermore, to encourage more startups, SMEs and stakeholders to engage in the local transformation, facilitating the establishment of local innovation ecosystem and promoting the revitalization of local industries.
  In addition, there were about 30 local innovation startups showcasing at APEC Talk, and eventually IMPCT Coffee won the SME award. Under the theme of Inno Bazaar, about 30 startups had booth demo, showing their innovative business models featured with local characters and up-to-date technologies. Perception of Chiayi; Start, LTD; IMPCT Coffee, three teams won the popularity award after the voting by all the audience. WomanUP from Russia won the women entrepreneur award.
Digital Economy Leads Asia-Pacific Region toward Inclusive Growth
  In addition, APEC SME O2O Summit kicked off on June 26, where Ms. Mei-Hua Wang, Deputy Minister of MOEA together with Mr. Raymond Greene; Ms. Arividya Arimuthu; Mrs. Barbara Bonati; Mr. Michael Alfred V. Ignacio; Mr. Jamie Lin, member of APEC Business Advisory Council; and Dr. Wei-Sen Li from Emergency Preparedness Capacity Building Center (EPCC) attended the APEC SME O2O Common Good Ceremony to take concrete actions to promote the development of digital economy and O2O business model. Mr. Jamie Lin delivered a keynote speech and elaborated the vision of O2O with Mr. Samson Ellis, chief of Bloomberg Taipei; Mr. Richard Johnson from Google; and Dr. Hedy Ho, chief of Marketing and Operations, Microsoft. In the "Regulatory Sandbox" session in the afternoon, via live streaming and Q&A in real-time, Audrey Tang, Digital Minister of Executive Yuan joined by representatives of APEC economies, shared the promotion experience of disruptive innovation.
  The event of APEC SME O2O Summit on June 27 included four topics, M-Commerce, Sharing Economy, IoT and Next Generation Innovation. Experiences of digital transformation in diverse industries were shared by experts from both public and private sector in APEC economies, startups, and SMEs from local and abroad; besides, the achievements of the APEC O2O initiative in 4-year framework, conducted with the Philippines, Malaysia, Thailand, Viet Nam, Chile and Brunei Darussalam, were summarized 
  With the theme of "Boulevard of Technology Experiment", outstanding SMEs demonstrate their online-to-offline innovative business models at booths.
  2019 APEC IncluNext, combining the Local Innovation Initiative and the Online-to-Offline Initiative, well performed the efforts of promoting SMEs development by Chinese Taipei, together with the co-proposing member economies including Philippines, Malaysia, Thailand and Chile. Through this event, SMEA facilitated SMEs internationalization and contributed to a more inclusive and sustainable future in the APEC region.
For further details, or to arrange possible media interviews, please contact:
Ms. Pei-Ti Hu
Deputy Director General, Small and Medium Enterprise Administration, MOEA
02-2366-2202
bdhu@moea.gov.tw
Ms. Hsin-Yi Tseng
Section Chief, Policy Planning Division, Small and Medium Enterprise Administration, MOEA
02-2366-2251
thy@moea.gov.tw
Source: SMEA
Back List